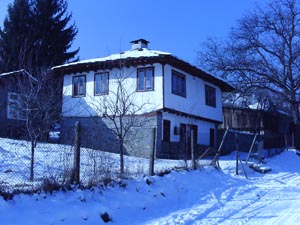 The coziest guest house!
"Four Pines"
The environment combines unique renaissance atmosphere and contemporary luxury. The house was built in 1850 and has 2 floors. The roof is covered with stone tiles, allowing in summer inside the house to be cool and during winter to be warm and cosily. The fireplaces contribute for the romantic atmosphere.

On the first floor is located the tavern with a bathroom and toilet. The house carries you in past centuries with the furniture in antique style, it is suitable for weddings, anniversaries, birthdays, christenings and more.
On the second floor bedrooms are also furnished in antique style combined with modern kitchen equipment and a bathroom.

There is cable TV with over 80 programs. Spacious yard is part of unspoilt nature - meadow with the green grass, trees, blackberries and raspberry.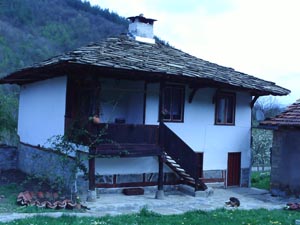 Here your children can play at will, and adults to play chess, party or simply relax and listen to diverse avian chorus. Over all this godsend majestic the four pines rises, each with different thickness and height. They embodies the keeper and hostess, and their two daughters.

Only 5 meters is the Beli Osam river, famous with its crystal clear waters and fish. It's worthy at least for one time to forget about your everyday life and dive into this haven on earth. Near by is the Troyan Monastery in 11 km., Chiflika is only in 7 km. and Beklemeto and Ribaritsa are about 20 km. away.

We await you!